About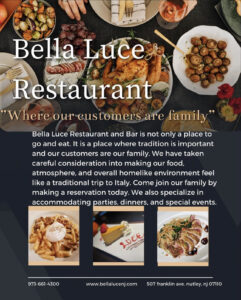 For the many people who thought Luce Restaurant in Caldwell was the ultimate mix of "good food, good people, and good prices" you are in for a very pleasant surprise. Bella Luce in Nutley actually surpasses it as the quintessential dining experience in Northern New Jersey. Opened in March of 2015, Bella Luce picks up where Luce left off and has been transformed into a trendy, yet casual, atmosphere, serving authentic Italian cuisine highlighting signature dishes.
Contemporary in design, yet inviting and comfortable, Bella Luce now offers it's patrons a thirty-seat bar that boasts signature cocktails and exquisite liquors. You can move to our dining room, if so inclined, or stay put at the bar and have dinner there. You can order from our bar menu or our full menu…the choice, as always at Bella Luce, is yours.
And speaking of choice, you'll be impressed with the the wine list that our resident oenologist, Joe Capasso, has put together–a well-rounded wine list to accommodate everyone's palate and price-point. Many of our knowledgeable customers have been quick to compliment Joe for his excellent selection.
Of course, the two men responsible for this better than seamless transition are co-owners Dino Vitagliano and the aforementioned Mr. Capasso. Similar in background, Joe and Dino were both born and raised in Newark, NJ. And while neither are formally trained chefs by trade, they both learned the art of cooking by attending two of finest culinary schools in the world…their grandmothers' kitchens. On any given evening, it is not unusual to have either Dino or Joe greet you at the door while the other partner is working in the kitchen.
In addition to everyday dining, Bella Luce is also the perfect place to hold a special event or private party. With years of experience hosting hundreds of both corporate and family events, Bella Luce will deliver an amazing experience for you and your guests. Email us or call us today at 973-661-4300 to request more information. We would love to help you set up an event, memorable dinner, or business lunch.